Four children who had been missing since May 1 when their plane crashed in the jungle of Columbia have been found alive in the Amazon after 40 days. The four children had been traveling with their mother on a Cessna 206 aircraft from Araracuara in the Amazonas province to San Jose del Guaviare when the plane developed engine failure and crashed after the pilot issued a Mayday alert.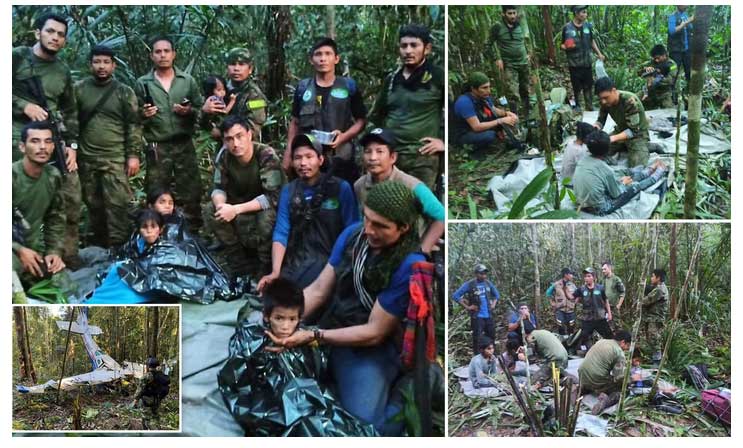 The mother, Magdalena Mucutuy Valencia, died together with the pilot, Hernando Murcia Morales, and the indigenous leader of the Yarupari tribe, Herman Mendoza Hernandez. The four children are Lesly Jacobombaire Mucutuy, age 13; Soleiny Jacobombaire Mucutuy, 9; Tien Ranoque Mucutuy, 4; and one-year-old Cristin Ranoque Mucutuy.
More than 100 Special Forces from the Columbian army and over 70 indigenous scouts combed the site of the crash and found evidence that the children survived the crash but wandered off into the forest. Family members and the government worried that the rainforest the children had gone off to is home to jaguars, snakes, and dangerous predators; but they hoped that the eldest had significant jungle survival skills to ensure their survival.
Some of the clues that the operations team found were footprints, a dirty diaper, a pair of scissors, a hair tie, a makeshift shelter, and a bottle. At a point, the grandmother of the children recorded a message urging the children to stop moving in the Huitoto language and broadcast from helicopters to enable the authorities to locate them easily.
When the children were found in the Amazon rainforest on Saturday morning, the entire nation of Columbia was agog with joy. President Gustavo Petro expressed joy at finding them and thanked soldiers and local vigilantes for not giving up on the kids after more than one month. Photos showed two of the children being fed with spoons in a forest clearing and a bottle being held to the mouth of the infant by their rescuers.
The children look gaunt in the forest photos and a pediatrician and a neonatologist in the search team provided preliminary treatment to them. They were then lifted by air ambulance by the Columbian Air Force to the Military Transport Air Command in Bogota, the nation's capital, where they were to undergo a medical examination.
"They were alone, they themselves achieved an example of total survival which will remain in history," Petro said. "These children are today the children of peace and the children of Colombia. The most important thing now is what the doctors say, they have been lost for 40 days, and their health condition must have been stressed. We need to check their mental state too."