Three gunmen have killed a former Indian lawmaker and his brother on live TV while they were being escorted by police to the hospital. Former parliamentarian Atiq Ahmed and his brother Ashraf Ahmed were shot in the head by gunmen that police authorities said posed like journalists.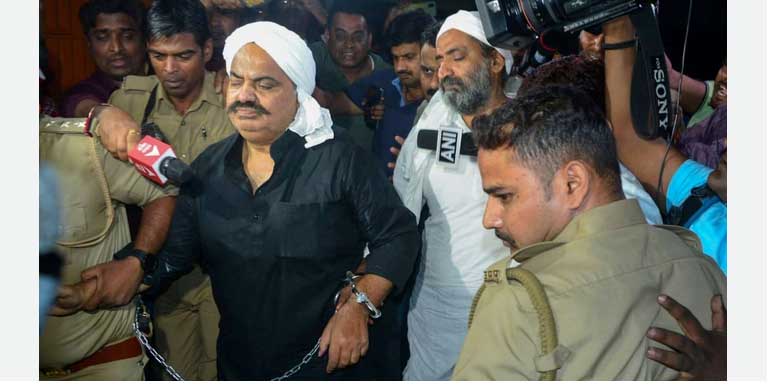 The authorities said the gunmen were part of the crowd that waited to see Atiq and Ashraf taken to the hospital. The assailants posed like journalists and approached the brothers who were handcuffed and wedged between police escorts as if they wanted to ask questions for their media. But one reached over the shoulder of a police officer and shot Atiq in the temple with a pistol, blowing off his turban.
The two others shot Ashraf and both brothers died instantly. One of the assailants immediately surrendered to the police and officers overpowered the remaining two. The one that surrendered shouted "Jai Shri Ram," which means "Hail Lord Ram," a battle cry issued by Hindu nationalists against the minority Muslims in India.
"They managed to reach close to Atiq and his brother on the pretext of recording a byte and fired at them from close range," said Ramit Sharma, a police officer. "Both sustained bullet injuries on the head. It all happened in seconds."
The incident happened in Prayagraj, a city in the state of Uttar Pradesh, the most populous state in India with about 200 million people. The three assailants are from Uttar Pradesh and have been identified as Lavlesh Tiwari, Arun Maurya, and Sunny Singh. The three are currently being interrogated by the police.
Just last week, Atiq Ahmed's 19-year-old son was killed in a shootout with police after being hunted down in connection with a murder case. In the last six years, more than 180 people suspected of crime have been killed in encounters with police officers in what international watchdog agencies called extrajudicial killings. In March, Atiq wrote to the Supreme Court to petition that his life was in danger and he feared being killed by the police.
Atiq was a lawmaker for four terms, having been elected to parliament in 2004. The 60-year-old was imprisoned in 2019 on charges of kidnapping, land-grabbing, and running a mafia gang. He had more than 100 cases filed against him in the courts. Several top politicians have condemned his killing while in police custody on Sunday, saying federal investigations should be opened into his death.