Producer Mike Fleiss has learned to grin and bear it when it comes to a black bear making a cameo in his Montecito, California, neighborhood. The unexpected visitor trampled through the area, which isn't a typical stopover for bears. It is, however, a hibernation haven for some of Hollywood's biggest A-listers such as Oprah Winfrey, Prince Harry and Meghan Markle, Arnold Schwarzenegger, Al Gore, and many others.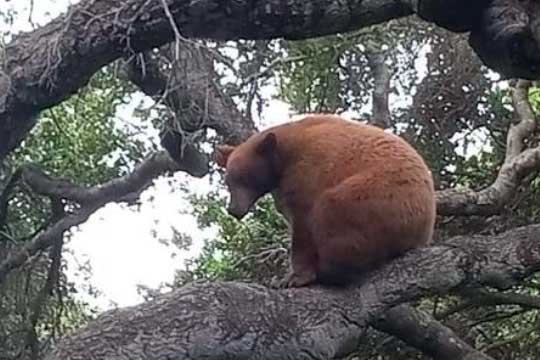 "We had a giant bear in our backyard last week in Montecito, which is very unusual and very close to Meghan and Harry and all those very important celebrities, Oprah and everybody," Fleiss says. "I know people won't care if I get mauled by a bear, but they might care if the royals are attacked," he jokes.
Mike Fleiss says he snapped photos of the beast on his phone and observed the critter climb a nearby tree. For the past few years, locals have spotted a roving bruin they dubbed "Carlos" roaming the streets. Fleiss says many of his neighbors have seen it but aren't sure how to approach the situation.
Bear-ly There
A bear in the backyard is nothing to be trifled with. If hungry, black bears will travel as far as 40 miles for a bite to eat. They can sniff out a food source from over a mile away and it's not uncommon for them to eat throughout the day. These types of bears tend to stay active during the early morning and late evening hours during the summer months and mate in July, indicating the bear could be making a reappearance again soon. These creatures will feast on plants, bugs, birds — and human garbage.
Although injuries from black bears in California aren't commonplace, these animals — they can reach up to 500 pounds — are unpredictable by nature and could strike if frightened.
Located on the Central Coast of California, Montecito is nestled between the Santa Ynez Mountains and the Pacific Ocean and has been known to be a hub for mountain lions. Despite an occasional bear sighting, it's not an everyday occurrence there, according to Fleiss.
California's Department of Fish And Wildlife adds that black bears tend to be more common in mountainous areas rather than in suburban environments. The Golden State's ongoing battles with droughts and wildfires could be the reason the bear migrated to the Montecito region.
Montecito is home to sprawling celebrity estates and sparkling beaches. It's become a sought-after tourist hub thanks to its serene surroundings and attractions such as Butterfly Beach and Lotusland botanical garden, which offers 37 acres of breathtaking gardens featuring aloe, cacti, orchids, and other exotic flora from all over the globe.
Un-Bear-Able
Real estate in Montecito is a hot commodity, with properties ranging from $5 million to $100 million. Therichest.com reports that Harry and Meghan Markle landed a $14.65 million estate in Montecito in 2020 and their nine-bedroom, 16-bathroom home boasts gyms, arcades, a private elevator, and Winfrey as a neighbor and instant BFF.
Singer Ariana Grande sold her historic Montecito home for $9.1 million last year. She originally bought it for $6.8 million from Ellen DeGeneres. The Tudor-style residence's original buildings were built in England in the 1700s and painstakingly shipped to America. It features just two bedrooms and three baths but has 5,550 square feet of space inside.
And it has a very hairy uninvited neighbor who has managed — up to now — to avoid the authorities.
Observes Mike Fleiss: "They tried to set a trap but the bear was smarter than the average bear. It eluded the trap and ran up the Montecito Creek." That's one elusive pooh.